Termites, Rodents, and Bugs Oh My!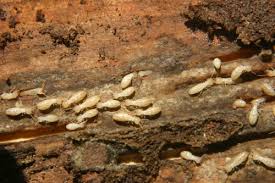 With all these hot summer days, you wouldn't think this is the time to be worried about the cooler weather and protecting your home from termites.  But let me explain why getting started now makes the most sense for piece of mind and your pocket book.
When termites get to your home, they are literally designed to tear it apart, tiny piece by tiny piece.  This fall is it is critical for your home's safety that you get on a program to prevent these types of infestations.  Let me explain why. Fair warning.. this gets a little scary.
 Termites and ants are the home wreckers. They breach your home's defenses and build colonies in your walls. Those colonies feed and burrow into your wood, making vast pathways through support beams and framing. Many homeowners don't even see the destruction till it's too late, and they are looking at thousands of dollars of repairs–if they can repair at all.
Rodents get into your crawl spaces and walls and bite on wires, and snack on sheet rock. In this way, other than being an awful, shaggy, disease carrier, that creeps through your cubberds and pantry, they can also cause issues with your electric, telephone, web, and TV wiring. These are difficult to find issues covered up inside your attic or walls, and can cost a great deal to fix. On the off chance that you've at any point paid an electrician to do anything, you know they're not cheap.
Fall critters also bring infections and sickness. The cockroach loves microorganisms and rot. When he is finished dragging his gleaming dark colored body through the sewer pipe, he is all too happy to slither into your flour pack, or over into your silverware drawer. The bad part is, normally you don't know it. Your kids becomes sick with this season's flu virus, and you think it is just the season, unaware that the issue is being brought into your home by a fall intruder.
Creepy crawlies, wasps, insects, and ticks, love a decent warm place to spend winter. They get you while you're sleeping or while you're relaxing on the deck. They get you while you're comfortable on the sofa. Insect bites are worse in the fall, because there are more of them. Also to the bugs, your warm, secure home, looks like a great place to settle in for their long winter stay.
Then, there are a whole slew of pests that are just plain irritating, like: ladybugs, stink bugs, crickets, silverfish, centipedes, cluster flies, and more.
In the fall, bugs and rodents are looking for a place to hibernate or overwinter. And they can turn your happy home into a horror film. That's why fall pest control is so important. A pest professional can treat your yard, and set up devices that watch for harmful insects, like termites. They can stop many bugs before they even get to your home. Professionals have training on how to seal your house, and can spray the outside of your home, especially in hard to reach places, like the roof line and third story window frames.
You don't have to live in fear of bugs and rodents. Proper fall maintenance can keep your home and your family safe, and bug free. You have enough to worry about. Leave your bug worries to the professionals.