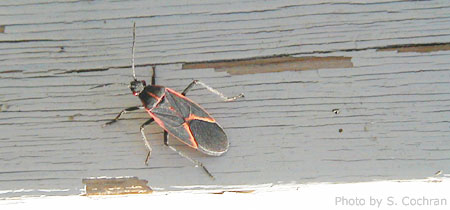 Fall is upon us, and the unique challenges it presents with regards to pest control in West TN are upon us, too.  Homestead Pest Management is here, too, to help meet those challenges head on!
Lorene Bartos, University of Nebraska-Lincoln Extension Educator, has this to say about dealing with the bugs of fall.
"Fall is here. Now is the time to look around the home and do fall maintenance. By doing this you will help with the problem of the little insect creatures finding their way into the home.
"All animals struggle to survive in winter, so during the fall insects and arthropods will crawl in the cracks and crevices of homes to keep living. If a house is not sealed well, insects have a lot of space available to hibernate in during the winter.
"The best prevention method is to seal all cracks and crevices around the home with materials such as caulk and expandable foam. Door sweeps are used to create a weatherproof seal at the bottom of a door, but they also work well to keep pests from crawling inside.
"The effectiveness of chemical sprays is limited because today's products aren't long lasting. Some crawling pests, such as millipedes and spiders, aren't greatly affected by sprays. Some pests, such as flies, ladybird beetles or boxelder bugs, fly and avoid perimeter sprays.
"Some common insects that enter homes include ground-dwelling insects and arthropods, such as spiders, crickets and sometimes millipedes. Other insects can enter higher up. These include boxelder bugs, Asian lady beetles and cluster flies. Flies can come into a house through cracks in siding or windows in upper or attic areas.
"Sticky traps or glue boards are a great way to passively catch spiders or crickets. The glue boards are completely non-toxic. Spiders and crickets tend to go toward dark areas, so place the glue boards in dark corners.
"The problem with other insects, such as the boxelder bug, is once they are inside a wall, nothing can be done about them. Boxelder bugs, flies and Asian lady beetles warm up inside of walls during this time, and when the weather becomes cooler they will venture out of walls into a home. Once these pests are in the walls, there aren't many good options because walls can't be treated.
"Another insect that can be a problem in the fall is the fruit fly. They can come inside when people bring ripe tomatoes and other garden produce into the kitchen. If the produce is ripe, it may have fruit fly maggots in it. Over time, an infestation may begin in a kitchen. Fruit flies are small, honey colored and have red or orange eyes.
"First make sure to get rid of the source of the flies. Get rid of any overripe fruits or vegetables or put them in a refrigerator. Make sure to check onions and potatoes — they are often overlooked. Once the source is eliminated, get rid of the remaining fruit flies by making a yeast trap. This yeast trap, made from yeast, warm water and sugar, creates carbon dioxide, which attracts fruit flies. It is simple to make and costs hardly anything. Find directions for making this fruit fly trap at: https://lancaster.unl.edu/pest
"The bottom line to prevent fall-invading insects is to take the time to seal all cracks and crevices. It will save a lot of energy and prevent insects from entering a home. If done diligently, it will save a lot of problems."
Homestead Pest Management of West TN can help you assess the current state of your home and property, and can assist you by developing a comprehensive plan of attack for ridding your home of unwanted pests and then maintaining its protection going forward. Contact us today for information about our services and to schedule  a home assessment!