Summer Temps can make Mice Seek Shelter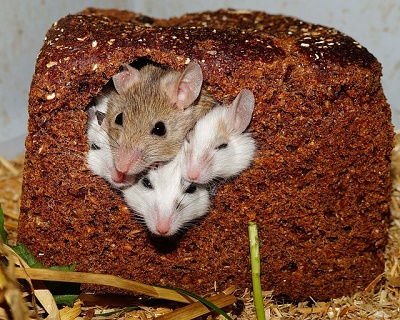 West TN just gets hotter and hotter as Summer deepens, and mice, like all living things, start looking for shelter from the sun's damaging rays when the temperatures begin to soar.  Homes, sheds, out buildings, warehouses, etc., are often where these furry little rodents run. 
If you have seen tracks, gnawing marks, or droppings, these indicate areas where mice are or have recently been active. Their nests, made from fine shredded paper or other stringy materials, are often found in dark, dry, sheltered locations. Though mice usually stay out of sight during daylight hours, if there are many, they may be seen before dark.  They have a distinctive, musty smell that is evident in their nests or in large groups. They are gray or brown rodents with relatively large ears and small eyes. An adult weighs about 0.5 ounces and is about 5.5-7.5 inches long, including the 3-4 inch tail.
House mice are considered one of the most destructive pests in the United States. They can survive in very small areas with limited food and barely any shelter under a variety of conditions in and around homes and farms. House mice eat and/or destroy food meant for pets and humans. They contaminate food-prep areas with their feces and urine, which can contain salmonella and lead to food poisoning. Their constant gnawing causes damage to structures and property. If you suspect you have a mouse problem, let Homestead Pest Management come into your home or other structure and do a thorough assessment to determine the best course of action.
House mice will eat many kinds of food but usually feed on cereal grains and corn. They eat often, nibbling bits of food here and there. They have keen senses and are excellent climbers. Mice can run up any rough vertical surface by clinging with their toenails and toes. They can fit through a crack small enough that only a pencil will fit into! They are also very prolific – in a single year (the average life span of a house mouse), a female may have 5-10 litters of usually 5-7 young each litter. That's a bunch of mice!
Homestead Pest Managment is your best stop in West TN for the extermination and prevention of a house mice infestation as well as all other types of pest control. We pride ourselves on our accurate, thorough assessments of your home and property, and are known for our personalized ongoing pest-control plans.  Contact us today and let us help you rid yourself of any pest problem that you may have.