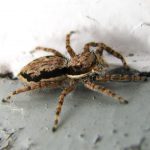 How to get rid of this?.
To get rid of pest problem under control, inspection is the first and foremost step.
SPIDER
PEST CONTROL
Spiders are arachnids, not insects.We can get rid of spiders by so many commercial spider sprays.
Spiders don't bite people very often. There is a belief that spiders come into your bed and bite you during the night. Nulla eget eleifend felis. Proin neque nulla, blandit nec tellus id, sagittis venenatis arcu. Nullam maximus, leo vitae varius tincidunt, dui turpis ultricies ipsum, vitae euismod ante urna nec tortor. Vivamus sem arcu, vehicula eu euismod ac, mollis vitae mi. Fusce at dui at urna faucibus elementum ac sit amet mi.
Homestead can come periodically to monitor your home and help prevent an infestation with SPIDER.
GET QUOTE NOW
30 DAYS MONEY BACK GUARANTEE
We accept all credit and debit cards!